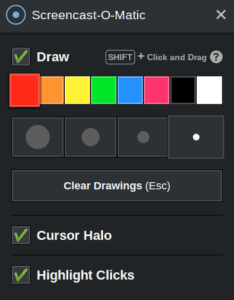 Your Chromebook screen recorder experience has gotten better with the release of Screencast-O-Matic's newest features.
We've listened to your needs and we've made tremendous headway in offering you key features to enhance your Chromebook screen recorder and video experience.
Here is a list of the newest enhancements:
Drawing Tools: Customize your video by using our drawing tools.  You can customize the color of the 'pen' to the width of the line.  You now have the ability to point out specific areas in a video. Feature tip, click on the Shift key and draw with your mouse or finger.  

Mouse Tracking and Click Effects: Highlight and track your mouse movement with the Mouse Tracking feature.  It helps track the movement of your video and it's much easier for your viewers to follow.
Trim Edit: With this feature, you have the ability to trim your video down. You can trim from the beginning or the end of your video.
Save Video Files and One-click to Google Drive: You can save your screencasts and videos as a file on your computer or save directly to Google Drive.  It's a quick and easy way to save your work.
Publish and Share on YouTube: Ready to share your video? Publish your video directly on YouTube and share within minutes of upload.
Removing the Watermark: Personalize your video by removing our watermark.
Chromebook users already have these features they can take advantage of.  Those Chromebook screen recorder features include:
Unlimited Recording Time: Fifteen minutes may not be enough to get your story across. Unlocking the power of a Deluxe subscription gives you access to an unlimited recording time.
Unlimited Amount of Recordings: You can create as many videos as you want with Screencast-O-Matic. There are no limits!
Record your webcam or screen: Our easy-to-use recorder gives you the ability to record your screen, webcam or both!
Add Audio Narration or System Sound: Add your own voice to personalize your videos and take the sound from your computer's speakers.  Any way you go, using audio will enhance your videos.
Universal Login: You can log in to multiple devices with our Universal Login feature. Your subscription gives you access to our advanced tools on your PC/Mac. Here's a tip: Easily import your Chromebook video files to your PC or Mac and enhance using our advanced Editing tools.
It's been five months since our launch and we're already making headway with our features. We've heard feedback from our users and we're excited to unveil new features as they come.  Stay tuned for more from Screencast-O-Matic!
If you want more from your subscription, unlock the power of our Chromebook Deluxe version and upgrade to get more features.