Thanks in part to the rising popularity of Chromebooks, the future is now in top-performing classrooms across the globe. A growing number of individual institutions and school districts have adopted one-on-one (1:1) programs, meaning every student has access to laptops. In many of these classrooms, Chromebook laptops are used. At the same time, videos have become an increasingly essential and exciting aspect of contemporary education from K-12 to college and beyond. From rural to urban schools and everywhere in between, using and creating educational videos on Chromebooks is revolutionizing and improving the learning process across multiple subjects.
Transformative Tools at Fingertips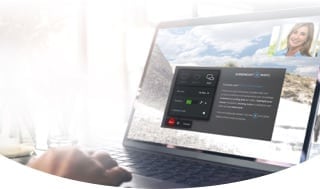 With their ease-of-use and portability, Chromebooks make education more immersive and increase access to information. They also help educators and students organize the learning experience and increase the ability to communicate ideas with each other. In keeping with these benefits, more than 25 million students are using Chromebooks globally. In fact, New Zealand adopted Chromebooks and their Google-enabled technology for its nationwide school system.
Chromebooks are appealing for a number of reasons. They're reasonably priced by a range of manufacturers: Acer, ASUS, Dell, HP,  Lenovo, Samsung, and, of course, Google itself. Chromebooks feature Google's support and security software. They offer long battery life (a bonus for long school days split among different classrooms and settings). They also feature built-in web cameras that can open new video-enhanced horizons of educational opportunities.

Video is Central to Learning
There's an old — and inaccurate — line of thought that teachers use videos to fill up class time. In reality, educational videos are highly effective and impactful. Their use is time well spent. Vanderbilt University's Center for Teaching notes that in the Cognitive Theory of Multimedia Learning, videos unite the dual visual and auditory aspects of information. By combining these two channels, videos can maximize working memory capacities and improve education.
Even more, according to the University of Queensland's Institute for Teaching and Learning Innovation, using videos in the learning environment can increase student motivation. This, in turn, can lead to improved classroom performance and deeper learning of subjects.
This leads to the importance of educators creating learning-focused video content. For instance, Salman Khan created a renowned and respected educational video series — known as the Khan Academy — that has dramatically enhanced educational opportunities for students around the globe. As Khan notes in his famous TED talk appearance, videos actually improve learning by freeing up lecture time for teachers. This can translate to increased one-on-one interaction with students.
And, as an increasing number of school districts jettison the old "snow day" model of canceling classes during inclement weather or other emergencies, videos can keep lectures and other lessons in store for days when brick-and-mortar classrooms are closed. Chromebooks are always available.
Creating Educational Videos is Key (and Easy)
At the outset, some educators might be daunted by the prospect of creating their own videos to use in their curricula. In reality, however, creating videos is easy with the proper tools, such as Screencast-O-Matic's suite of video solutions, including its innovative and powerful screen recorder and video editor.
Educators in the sciences and mathematics can find the screen recorder exceptionally useful, especially when sharing equations and other information with students. The solution features extensive attributes, including the following:
     

Record any part of a Chromebook screen

     

Add and size webcam images for a picture-in-picture effect

     

Narrate from a selected microphone during recording

     

Trim the start and end of recordings to remove unnecessary parts
For ease of use, the Screencast-O-Matic screen recorder can be used as a Chrome browser extension app and is available in the Chrome Web Store as a free download.
Educators of all subjects can create compelling, knowledge-rich multimedia with Screencast-O-Matic's powerful and affordable video editor, too. Using the tool, educators can do the following:
     

Animate video with transitions and overlay effects

     

Import video, audio, and images from other devices

     

Zoom in/out and highlight areas of videos

     

Add and edit narration, music, and system audio

     

Hide/show and scale/crop webcam coverage

     

Use green screen technology

     

Add and style text, images, blurs, and shape overlays

     

Add stock music and captions to any recording
With these solutions, educators can create an unlimited number of videos suited to any subject. 
Don't Forget Student Filmmakers!
Using instructor-created videos made with the combination of Chromebooks and Screencast-O-Matic is valuable in the educational process. It's also beneficial for students to create their own videos while taking classes. According to Edutopia, video can tap into students' interests and habits. Self-created videos can allow them to creatively demonstrate subject matter mastery and knowledge, as well as reflect on course topics. As a bonus, students from kindergarten to graduate school can even create tutorials for their fellow classmates, further strengthening the learning experiment.
With all these benefits, the combination of Chromebooks and video is truly an important part of the future of education — now.
Screencast-O-Matic on Chromebook
You can take advantage of Screencast-O-Matic on Chromebook by downloading the free Chrome browser extension.  Easily record your screen or webcam with just a few clicks.  It's fast and free for Chromebook.
Screencast-O-Matic also has Deluxe Chromebook features to enhance your recordings and videos. Check out the video below for more.
Share your own classroom experience with us! Please email Christine at christine@screencast-o-matic and share your story. We love to hear from educators!