Do your screencasts have areas of narration silence which interrupt the natural flow of your video?   Often when screencasting gaps occur in your narration and result in sections of silence that are evident throughout the video.  Silences in narration can make it seem to the viewer that there is an issue with audio.   A longer video can have many of these silences. Manually finding and editing each of these sections can be time consuming and tedious.   Therefore, having the ability to easily edit narration silence is essential. 
There is now a tool in Screencast-O-Matic that allows you to automatically remove sections of silence based on criteria you designate!  The Video Editor allows you to easily find sections of silence and highlight those sections on the timeline.   
Editing Narration Silence Globally
Under the Audio/Narration heading on the right side of the Video Editor there is a small icon for managing silence. The resulting menu offers the ability to globally manage sections of silence.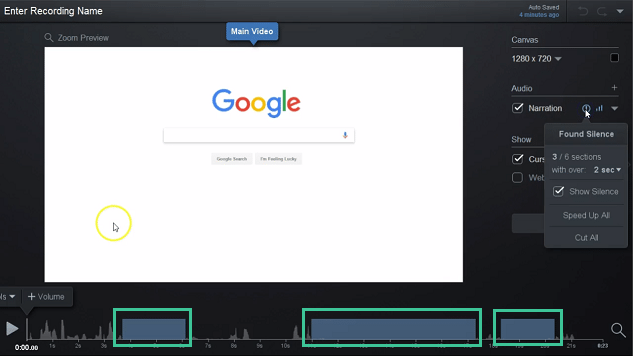 Clicking this icon enables you to define silence by minimum duration (seconds).   As a result, the Video Editor will automatically show any silence detected as editable sections of silence on the timeline.   Once your silences are found, you can globally cut or speed up all sections of silence in your video with one click.  This makes it super easy to manage out silence.
Editing Individual Sections of Narration Silence
There is also a tool to edit individual sections of silence on the timeline.
When editing a single section of silence, you have the option to completely cut or speed up the silence from only that section.  There is also an additional option which absorbs the silence, essentially speeding up the video so that narration continues.   This is especially useful if you are performing a task on the computer screen and have a gap in narration.  In this case you may want to create an effect of narration continuing through the task.   It should be noted this won't work if you have the webcam activated as the video will then become out of sync.  So you will want to create this effect if you are only recording the computer screen.
We have made a video tutorial of these features so that you can easily reference how to manage silence in your videos: