You can now quickly share videos directly from the Recorder.  As always, you can review your recording before publishing to ensure that it's ready to share.   Share options appear in the Recorder when your video is published so you can instantly share with friends or community.   This seamless share option makes it super easy to get your videos in front of your audience.
You can share directly to your Facebook or Twitter feed.   Click the icon, input your credentials (first time only), pen your post or tweet, and share your video links instantly.  The post or tweet will include a link where you chose to upload the video including Screencast-O-Matic, Youtube, Google Drive, Vimeo or Dropbox.  
Other options in the quick share menu include sharing the link via email or Google Classroom.
If you use Screencast-O-Matic to host your videos, you can also access the 1 click share options included with each video (click link button on video).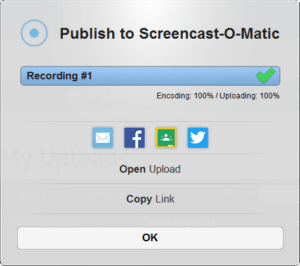 Publish Dialogue – Quickly Share Videos