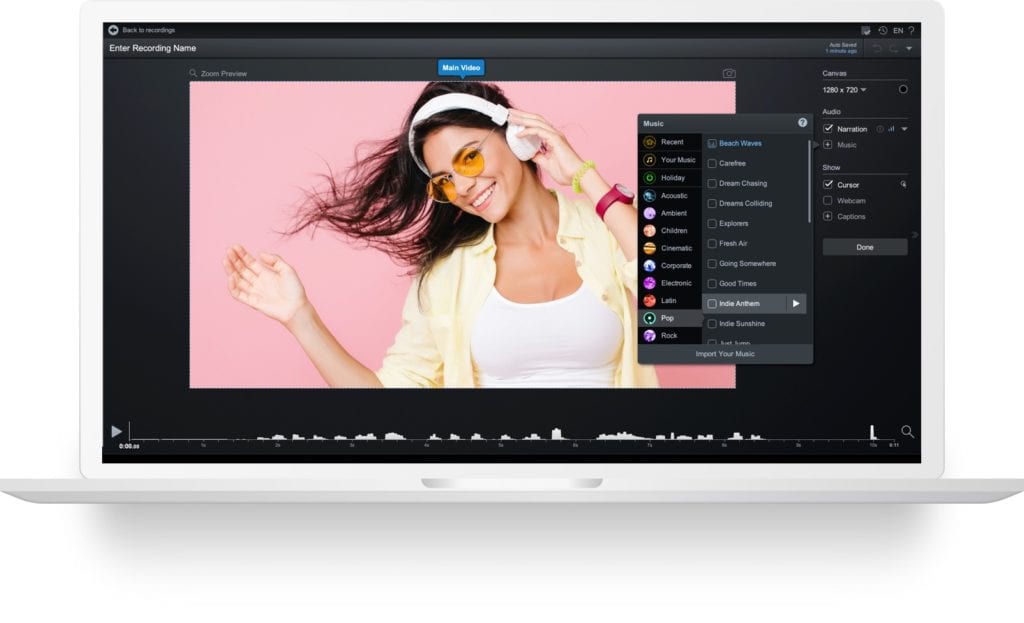 Enhance recordings and video with music! You can set the right tone with our stock music library.  There are numerous music tracks for you to choose from.
You can add stock music tracks to your video directly from the screen recorder and video editor.
Engaging Music For Any Video Project
We've made it easy for you to quickly add stock music to any of your videos.  After you complete a video, click the music icon to the right of the timeline to preview each track.
A long list of music tracks are available for you to choose from.  Just pick a music category and browse through the tracks. Click on the music track you would like to use and it will be placed on your video.  It's that simple!
Our team continues to enhance our music collection.  Check back often for more music tracks!
Free users are able to choose from a list of three music tracks which are available within each category.
Deluxe and Premier users get access to all music tracks and the option to import your own music.
Music Options in the Video Editor
There's so much you can do in the video editor.  With our global video editing tools, you can adjust easily audio settings, increase or decrease the volume of your entire track, or add fades to the beginning or end of your video.
There are other audio options you can use including normalizing sound, ducking, and looping the music so it repeats on your video.
Multiple Music Tracks
If you're looking to add multiple music tracks, you can do that with our Sound tool.  It's located in our Tools menu above the editing timeline.
Head to the point of your timeline where you want to add music.  You can adjust the length of your music track by dragging the music over your timeline.
If  you want to add more tracks to your video, the same process applies.  You can add as many tracks as you want in your video.
You'll also discover there are more options for you to customize your track.  A simple menu gives you the ability to add fades to your music.  You can also control the volume.
Change your mind? It's easy to replace the track with another one from our music library or you can import your own.
Add Music Sections
The same method for adding multiple tracks applies to adding them in sections of your video.
If you are looking to add music to the beginning or end of your video, you can do that with the Sound tool.  Just adjust the music track over a section of your video then adjust music settings to include a fade, if needed.
There are so many ways you can use music with Screencast-O-Matic!  With a bit of music creativity, you can set the perfect tone for any video project.
Extra Resources
We have some great tutorials and blog articles where you can learn more about adding stock music and your multiple audio options:
How to add music to my whole video