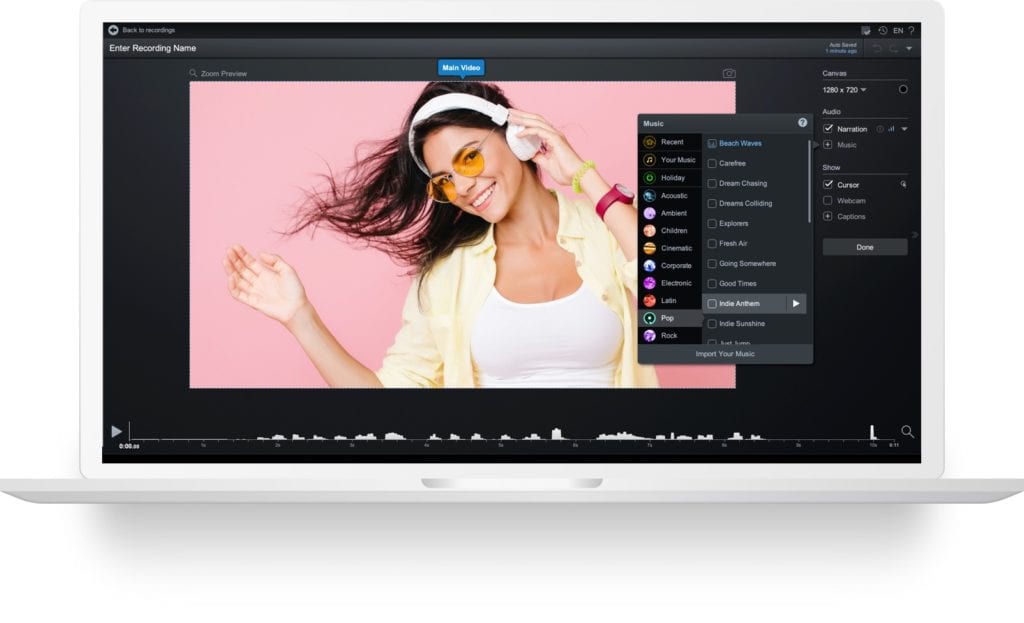 Set the right tone for your videos and add music.  There are numerous music tracks for you to choose from.
You can add stock music tracks to your video directly from the Screen Recorder and Video Editor.
Add Music in the Screen Recorder and Video Editor
After you complete a recording or video, click the music icon to the right of the timeline to preview each track.
A long list of tracks are available.  Just pick a music category and browse through the music tracks.
Free users are able to choose from multiple categories.  A list of three music tracks are available with each category.
Deluxe and Premier users have a lot more choices. You get access to all music tracks and the option to import your own music.
You can also use the Video Editor to adjust audio settings. You can increase or decrease the volume.  You can also fade the music in and out.  There are other options including normalizing sound, ducking and looping the music.
You can easily preview each track and then pick the one which suits your video best.
Once selected, we automatically add ducking to the music, reducing the volume if you have recorded narration. Music will be automatically looped until the recording is finished.
We have some great tutorials and blog articles where you can learn more about adding stock music and multiple audio options: