The Ultimate Guide On How to Screen Record 
Easily create engaging screencasts and videos with Screencast-O-Matic's free screen recorder.  Learn how to screen record on Mac, Windows, and Chromebook. 
Capture any area of your screen, add voice narration, record your webcam, and more!
Follow our Ultimate Guide On How to Screen Record. We've also added extra tips and tricks to help you get started.  
Capture and create videos within minutes! 
Getting Started With the Free Screen Recorder
Whether you are an educator or a business professional, you can easily create videos to communicate and collaborate.  Create how-to videos, tutorials, product demo videos, YouTube videos, and more!  Here are 3 steps to start recording with our free screen recorder.
Step 1.  Head to Screencast-O-Matic.com
There are a number of ways to launch the screen recorder.  You can head to our website and launch it directly from our screen recorder page. 
If you have a Screencast-O-Matic account, you can login to your account page. Click on the 'recorder' icon located on the upper right-hand corner of the page to launch the recorder.  We've also made it convenient for you to launch Screencast-O-Matic from your Windows taskbar or Mac menu bar.
Step 2.  Launch the Screen Recorder
Click on 'Launch Screen Recorder.'  A pop-up notification will appear indicating that the recorder is being launched.  
If it doesn't appear, you have the option to download the app onto your computer.  Any time you need to record, you can click on download.  This is great for those who want to screen record while offline.  
Step 3.  Start Recording
Within seconds, you'll notice the screen recorder on your computer and you can start recording.  
Below, you'll find a list of your recording options as well as tips for recording your screencast.  
VIDEO: Step-by-Step Guide
Screencast-O-Matic's free screen recorder is used by millions around the world, from educators to businesses to bloggers. There are numerous ways to use a screen recorder.
Watch this step-by-step guide and start creating screencasts within minutes.
Testimonial Highlight
Gannon Nordberg, a technology specialist at Lord Fairfax Community College in Virginia, is finding more ways to implement video on his campus.
He believes video helps keep students engaged in online course content.  Hear what else he has to say about the screen recorder.  
Helpful Tips While Screen Recording
Once you have the recorder set up and ready to go, click on the red 'Rec' button to start recording.  A 3-2-1 countdown will appear.  It will start recording after 'Go' appears in the countdown. 
You've got a ton of flexibility while you are recording your screencast.  If you need more time to prepare or accidentally made a mistake, just pause the recorder.
Pause and Continue

You can pause your recording at any time.  Your red 'Rec' button will turn blue while you are recording. 
By clicking on the blue button, you can pause your recording.  You can take this time to adjust the recording frame before continuing to record again.  
This gives you a chance to 'edit as you go' and prepare for the next portion of your recording.  
Truncate Your Recording

There's no need to start over. If you make a mistake, don't worry!  You can pause and go back to a section of your recording to re-record.  
Click on the timeline box and go back to a certain time to re-record and truncate that section.  
Finished! Now What?
You're done recording your screencast, now what?  When you click 'Done,' you'll be presented with three choices to easily share or edit your screencast.  

Save and Upload – You can save your video as a video file or choose to upload to your hosting account, YouTube, Vimeo, and more!

Quick Share – Easily grab a link that you can share with your audience.
Edit Video – Need to make additional edits? Click on 'Edit Video' to enhance your screencast with overlays, cuts, and more! 
Below we've listed several basic editing features you can use with the free screen recorder. Upgrade to cut sections of your video, remove the watermark, add overlays, use interactive captions, and more!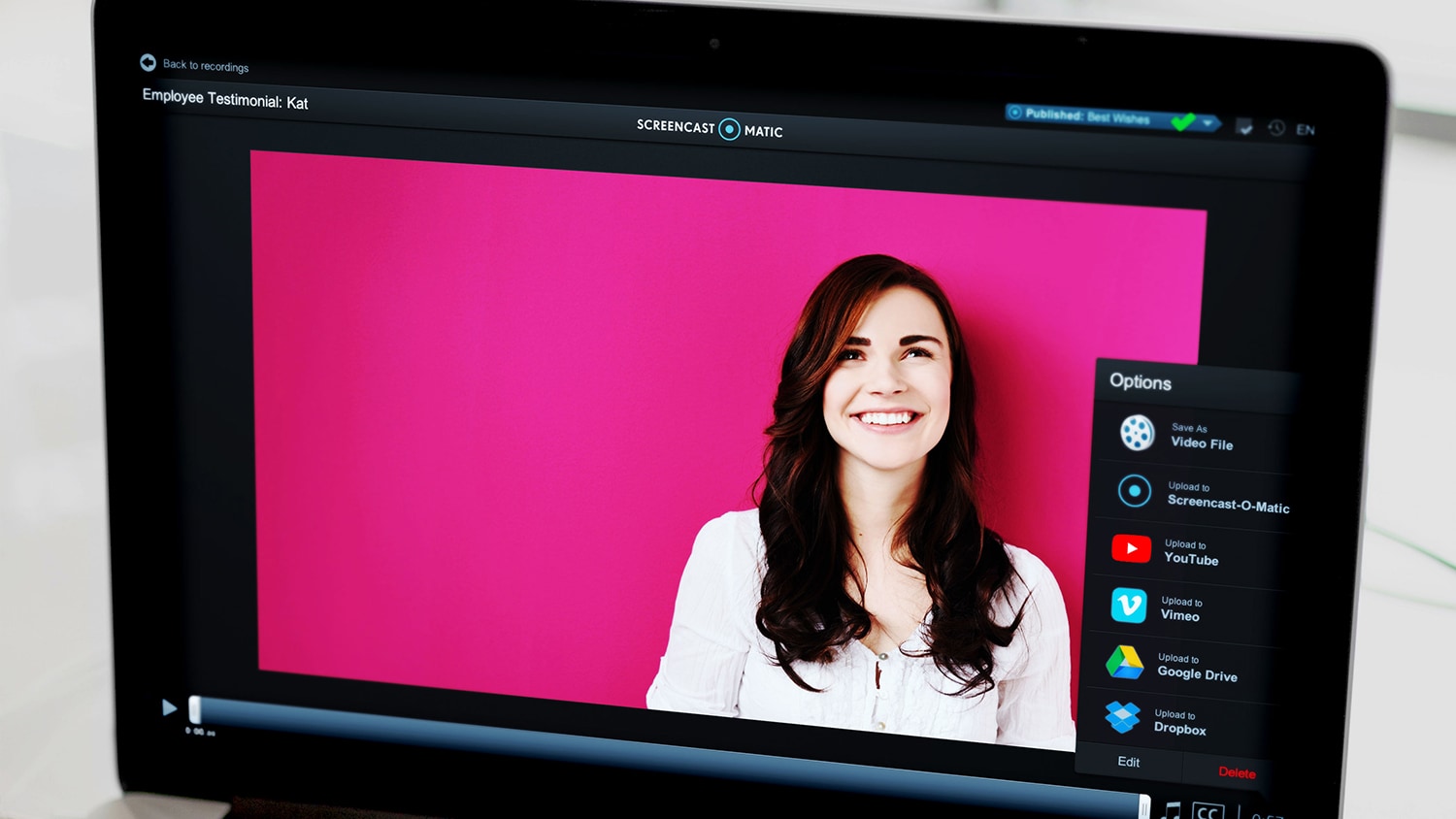 Trim Your Screencast
You can easily remove awkward pauses or silences at the beginning or end of your screencast.  
When you finish your screencast, you'll notice a timeline bar below your main video.  There are bars located at the start and end of the timeline. Just drag these bars to adjust the start and end of your video.
Anything in-between these bars will be published.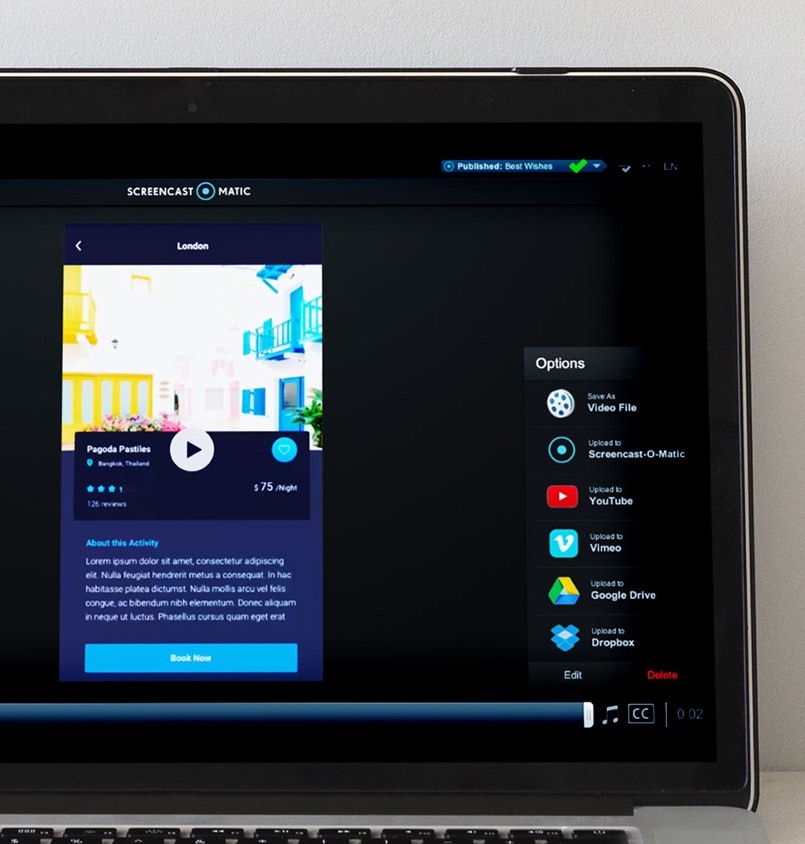 Share and Publish
There are several upload and publishing options in the free screen recorder.  
Save as a Video File – You can save your recording as a video file and choose either an mp4, avi or flv video file. You can save your recording in a folder on your computer or laptop. Just fill out the filename and hit Publish.
Upload to Screencast-O-Matic – You can upload and grab a link to share your recording. To do this, you'll need to sign up for an account or connect your existing one.  Please note: Free and Deluxe users can upload videos of up to 15 minutes into Screencast-O-Matic's hosting services.  Premier users have unlimited uploading times.
Share on YouTube – If you haven't linked your account, all you need to do is click on 'launch web browser' and follow the steps to connect your YouTube account. Once that's all done, fill in the information and it will upload directly to your YouTube account or a YouTube channel you choose.
Upgrade for more uploading options. By clicking on the '+' button on top of your menu, you can publish to other sites including Vimeo, Google Drive, and Dropbox.
Host and Manage Content
When you upload your video to Screencast-O-Matic, not only will you be able to grab a sharable link, but you can access this video at any time within your hosting account.  Login to your hosting account, to access all of your videos.  The hosting account provides several benefits: 
Copy and share links of your videos.  
Save and share videos with a custom URL.
Organize videos into folders and channels.
Deluxe and Premier users have more personalized options including embedding your videos onto your own website, customize players to fit your brand colors, and more!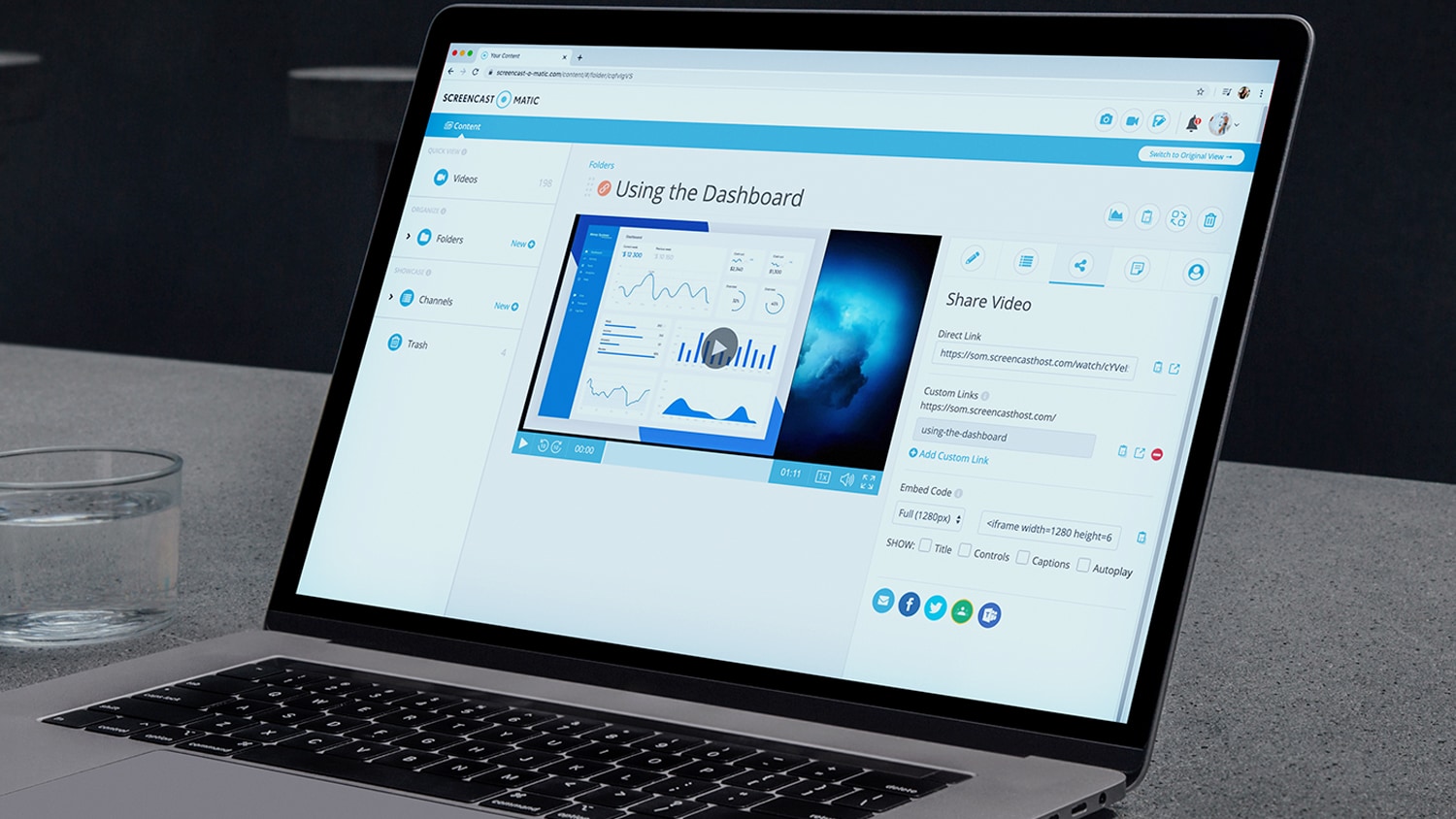 Testimonial Highlight


Leslie Fisher is an Education Technology Expert and Presenter and she has been raving about Screencast-O-Matic for years.  She recommends Screencast-O-Matic to thousands of educators.
Hear why she uses it and how you can implement it into your workflow.
All-in-One Video Creation Tools 
There's no shortage of tools and resources available to learn, implement, and excel when taking on the challenge of creating videos. Here are the tools you can use to succeed.
Video Editor
It's rare that a video is recorded perfectly from start to finish. Chances are, you'll need to do some editing. With the video editor, you can use easy tools to quickly add text and overlays, cut sections of your video, or mix and match media content.  
Screenshots and Image Editor
You've heard the saying, "a picture is worth a thousand words." With screenshots and images, you can send visuals to your audience.  An image editor allows you to add annotations to help explain your thoughts or message. 
Hosting Management
Finding a way to organize and manage all of your videos is extremely helpful. Hosting management enables you to securely save your content, password-protect them for extra security, organize them into their own channels or playlists, and share them to a class or individual students.
There's no need to go through multiple platforms to create content.  Screencast-O-Matic is an all-in-one content creation tool giving you access to all of these features in one place.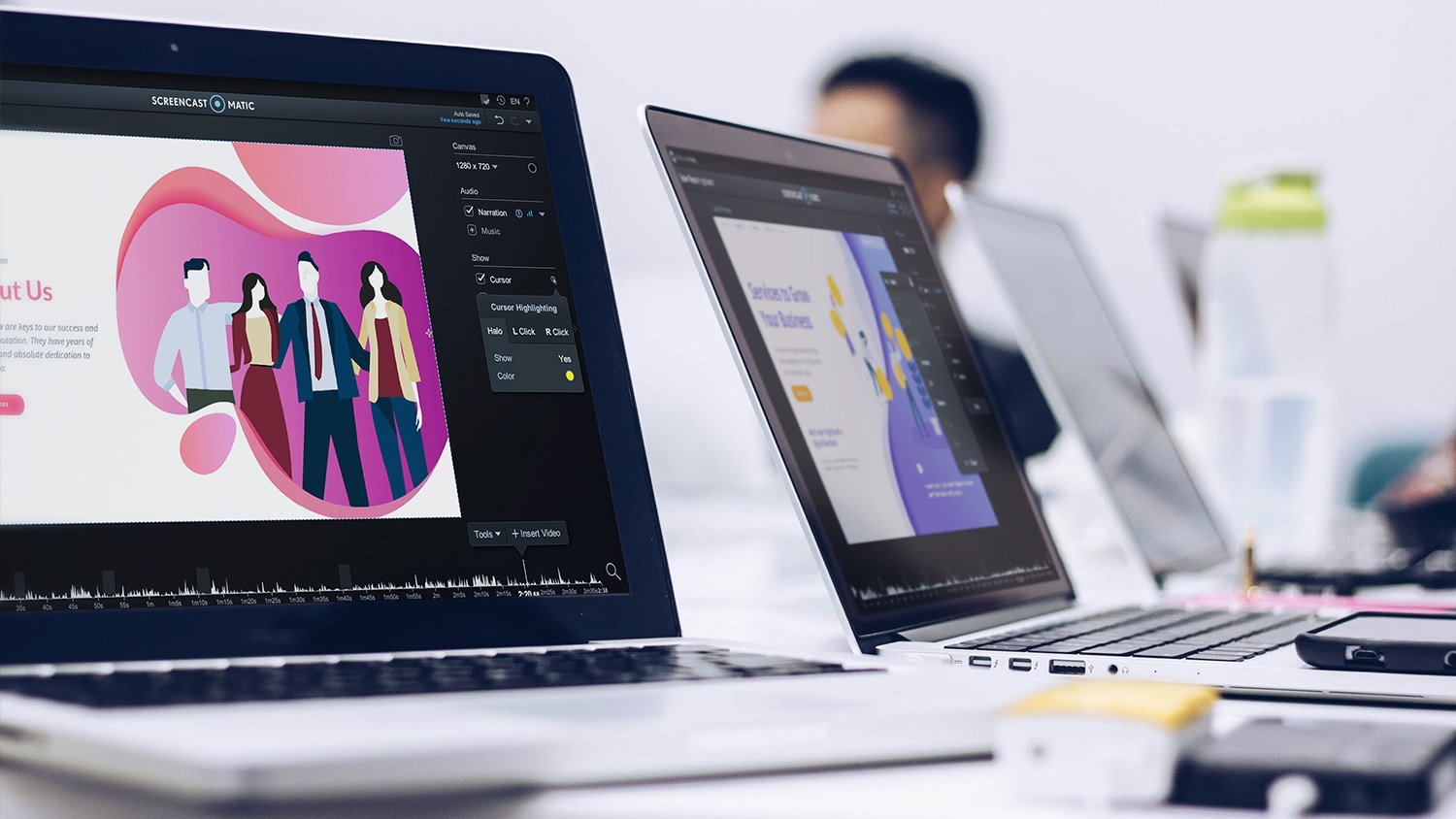 Unlock Your Creativity With Video
Video has become a powerful and essential part of modern communications.
From education to business, videos help people communicate, collaborate, and share impactful messages. Our suite of intuitive video creation tools makes it easy for anyone, anywhere to create videos.

Take advantage of all our great features. You have access to create amazing videos within minutes!