Over
30,000

recordings made every day!

Educators, businesses, gamers, anyone needing a fast recording app to create a video file, share on YouTube, or even uploading to a custom branded site hosted by us!
@iheartedtech
"WOW I *LOVE* the new screencast editor updates. SO intuitive and easy to use - THANK YOU! I liked Pro before, but LOVE it now!"

Screen and Webcam Recorder
Use our world famous recorder to record on-screen activity for short tutorials, visual presentations, and communicate while you demonstrate!
Upgrade now for just $18/yr or get a site license for your school or business.
Get the Pro Recorder!
Recorder limited only by local hard disk space available. Uploads to Screencast-O-Matic.com are still limited to 15-min per upload unless you also have Pro Hosting.

Recording computer audio requires PC with Windows Vista or later.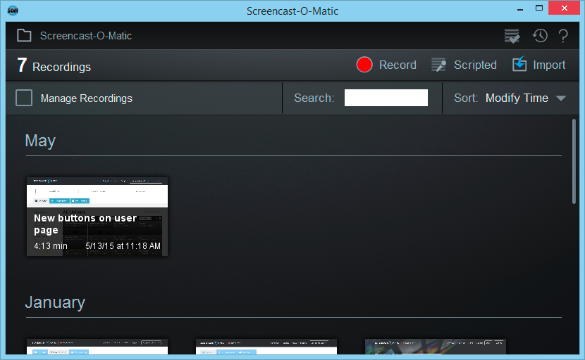 Upload and share!
We offer many upload options so you can share on YouTube etc or you can host your screencasts for free on Screencast-O-Matic.com.
We also have Pro Hosting to create your own branded site for screencasts and options to embed our recorder in your own site.
See hosting upgrade options