Get 50% Off
Exclusive offer for Teaching In Higher Ed listeners!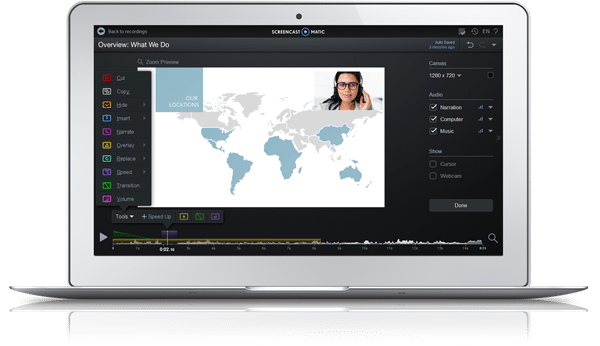 Pro Features
Screencast-O-Matic Pro is an easy to use, powerful set of tools to create, edit, and share computer screen recordings.
@iheartedtech

"WOW I *LOVE* the new screencast editor updates. SO intuitive and easy to use - THANK YOU! I liked Pro before, but LOVE it now!"

@rossedukate

 

"I'm giving audio feedback for the first time ever today! Thanks @screencasto for making it so easy! #highered"

@sergecosta

 

"Really impressed with @screencasto. Nicely compressed MP4. Easy learning curve. #edtechchat #edtech"
Frequently Asked Questions
Can I get a refund if I don't like it?
Refunds cannot be issued for payments already made. You should try our free recorder before purchasing to make sure it's right for you.
Do you accept purchase orders?
Not for the single user account but we do for the Site License option.
Can I upload recordings longer than 15 min with the Pro Recorder?
You can record for as long as you want but uploads to Screencast-O-Matic.com are still limited to 15-min per upload unless you also have Pro Hosting.
Can I use on more than one computer?
Yes, as long as it is used by just you, then you can login to our site from any computer and use it. If you have multiple users that need the Pro Recorder then you should take a look at our Site License option.
Claim your exclusive 50% off discount now!